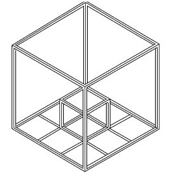 Cornelius Cardew's Treatise arrives - 090811
posted on Wednesday, August 12, 2009
Cardew. There's a really fascinating and palpable renewed interest in his work.
Treatise
[1967] and its precursors, such as
Octet '61 for Jasper Johns
[1961], are extremely imaginative and evocative works of visual language. Graphic "interfaces" meant to elicit interactive musical responses, avoiding collaborative hierarchies based on access to knowledge (i.e. training in conventional notation). So few of the young composers I come across objectify the actual visual interface of the score like Cardew and so many others did in the halcyon days of the 60's and 70's. Pragmatism rules the day I'm afraid. At any rate, a few images of my new prized possession...
Page 42
Page 131
tags: